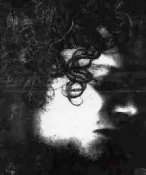 • lewis lacook at mp3 •
Lewis LaCook was born in Lorain Ohio on November 5, 1970, making him a Scorpio. At fifteen he joined the Black River Poets, and had his first published poems appear in their review. Leaving the group in his early twenties, he wrote features for the Cleveland Plain-Dealer, the Elyria Chronicle-Telegram, and the Lorain Journal. He is currently an undergraduate English major at Kent State University.
His poetry has appeared in LOST AND FOUND TIMES, WORLD LETTER, POTEPOETTEXT, POTEPOETZINE, WHISKEY ISLAND, LUNA NEGRA, ARIEL, BLACK RIVER REVIEW, THE COVENTRY READER, etc.
Lewis is working on a long collaborative e-mail poem called OUTSIDE THE BOTHER OF SUNLIGHT with Sheila E. Murphy and a collective text called UTOPIA which features several authors, among whom are Murphy, Thomas Lowe Taylor, and John Cone.

Editor of the e-zine IDIOLECT, Lewis lives in Kent, OH.